Where is "The Map"?
It is always found at or near the top of the front page of all searches for a local business. It's the mini map with 7 local businesses listed
to the right. As an example, do a search by typing "Criminal Lawyer Colorado Springs" in
Google and you will see all 3 areas. You'll see: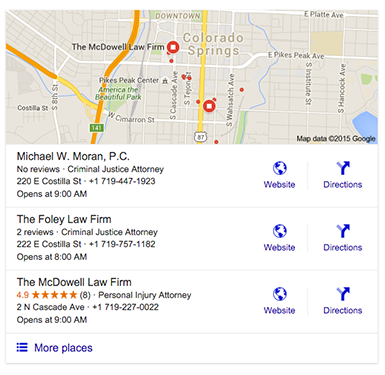 1

Google Local "The Map"

This is where we are going to place your business. You will see the results for Criminal Lawyer Colorado Springs directly to the right of the local business listings "THE MAP" at the top of the front page. Each of the 7 businesses have their name, phone number, and link to their website posted here if they have one.
2

Sponsored Links

Called pay-per-click or adwords is shown in the shaded area at the top or to the right of the page. They rotate based on who pays the most. Most consumers know they are advertisements and do not use them – consumers are seeking unbiased results that they perceive are not paid for advertisement. Examples…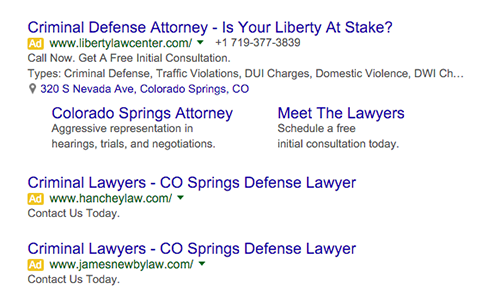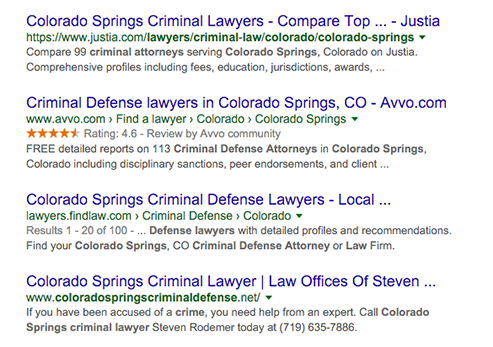 3

Organic Listings

These are the websites found below the local business listings "Maps". In order for your web-site to rank on the first few pages of Google or any search engine, a full search engine optimization (SEO) campaign must be developed. This is a timely and costly process. We have put over 400 business' "thYnking" in the past 12 months. Here is what we do to put you "thYnking".